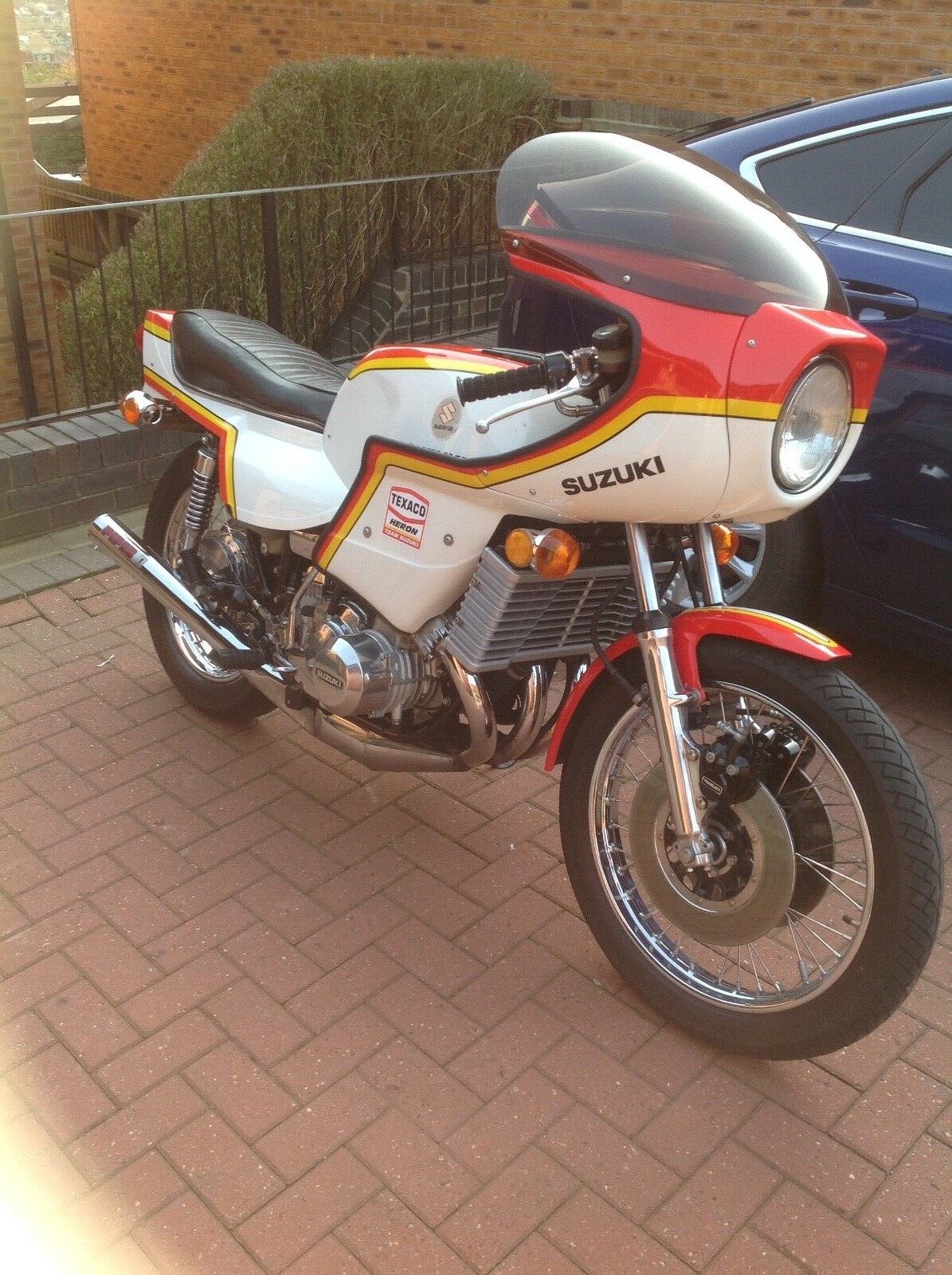 Dry stored for many years then recommissioned by me in Spring 2013.
Then fully restored from the frame upwards in winter 2013.
Fibreglass bodywork and seat are original, with original paintwork which is way too nice to be resprayed.
Everything else was stripped and rebuilt.
All bills to prove, plus photo's of rebuild.
Frame and all black work was powder coated.
All alloy polished.
Engine stripped and rebuilt by M.E. Motors, including crank by S.E.P …..new crank seals etc and re-bored to first overbore with new Wiseco pistons/rings fitted.
Carbs overhauled.
Brakes overhauled.
Everything overhauled.
Everything working including gear indicator.
Lots of stainless including both wheels rebuilt.
Great fun to ride, nice power band at 5500 revs and fitted with Piper 3-1 exhaust which sounds awesome.
Mileage since restoration is about 11.5k …..total mileage is 32.5k and I have MoT's going back to mid 80's to prove.
Original seat is starting to split and will need recovering at some point but is still perfectly serviceable.
Bike has been on the road all year round, every year since 2013 restoration and still scrubs up very well………you might be able to find a bit of dirt here and there and if you do then it comes free with the bike.
Has won at several ride to shows and could win again if that's your thing.
All the photo's are recent, taken at time of listing.
Be aware that the bike still has a winter coating of acf50 and wd40 so will shine up even better when it is degreased which I shall do in the coming days.
Recent new BT45 tyres fitted and balanced.
Registered as an Historic vehicle so free road tax and bike is MoT exempt but has current one for peace of mind ( expires March 2020 ).
You are welcome to view the bike, no obligation to buy and you get a free cuppa (bring sun glasses and flares, you will think that you are back in 1977 looking at a one year old bike ha ha ha).
Cash on collection within 7 days, no cheques, no electronic bank transfer, no paypal.
If you can not pay, in cash, within 7 days then please do not bid.
Advertised elsewhere so auction may end early if sold.
Just a note for the hard core mob.
I have no idea if the dunstall kit was fitted by Paul Dunstall himself or joe bloggs in a bike dealership and I don't really care, so no need to ask.
The V5 quotes the make as suzuki but the section for type/model is blank whatever that means.
The bike has been restored to be exactly how I would have had it back in the day with stainless cap head screws/ bolts and other none standard parts and that's the way I like it.
No offence intended.